RCCN Electric tape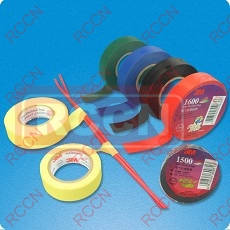 ● 3M-1500/3M-1600 product introduction:
3M lead-free electrical insulating tape is an excellent performance, economical and practical for PVC insulation tape. It has a good
Good abrasion resistance, moisture resistance, acid and alkali resistance to environmental changes ability ( including UV ). PVC tape
High dielectric strength, from the shape of less dosage, can obtain good mechanical protection.
●application
For lashing wire and cable, suitable for indoor or outdoor, 600V following all the wires and cable main insulation
For the repair of high-voltage cable joint sheath, for 600V and below electrical wire and cable insulation know color
The use of notes
When in use, with overlapping winding, the winding is uniform and tidy, exerts sufficient force should be. The connection type
Connector, tape to be wrapped around the wire trailing end, then turn back leaving a pad, to prevent the break through. In wrapping
The last layer, not to prevent tensile, tear flag.